Midwest Sanitation & Recycling has two recycling centers located in Pella and Oskaloosa and offers recycling services in Oskaloosa, Knoxville, Pella, and surrounding communities including Newton, New Sharon, Grinnell, Otley, Monroe, Harvey, Tracy, Sully, Chariton, Albia, Centerville, Eddyville, and Ottumwa.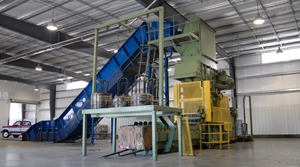 The Oskaloosa Recycling Center, completed in 2008, meets the growing demands for recycling in Midwest Sanitation & Recycling's service area. The state-of-the-art recycling center is a 17,000 square-foot building capable of diverting 300 tons of material from local landfills every month.
Several features make the recycling center "green." The main piece of equipment is a paper-fiber baler capable of processing three tons of material an hour. The purchase of this baler was made possible with a grant from the Iowa Department of Natural Resources, and it tripled the amount of material Midwest Sanitation & Recycling could process. Other features include a plastic sorting and processing area and a certified-for-trade scale.
Midwest Sanitation & Recycling offers two different recycling services: